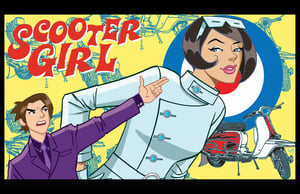 $

25.00
PRINT SALE! SAVE $10 ON 2 OR MORE––CODE: BLUESCOOTER at check out!
What's worse than being knocked down from being on top of the world? Having someone standing above you, laughing and making it near impossible to get back up! Ashton has it out to get Margaret, who really can't be bothered with the spoiled egomaniac.
11x17" on card stock, black border. Make your home the ministry of cool with your very own pin-up of The Beautiful Ones!