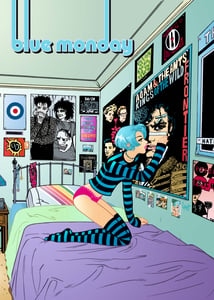 $

25.00
PRINT SALE! SAVE $10 ON 2 OR MORE––CODE: BLUESCOOTER at check out!
Bleu mooning over Adam Ant. A time capsule of Britpop, New Wave, Shoegaze, Electronic, Punk and alternative posters pepper her room. You know you're jealous.
Print size 13 x 19". Image size 11 3/4 x 16.5". White border.
Free Blue Monday sticker with purchase (you lucky devil, you.)